The Hunger Games – Mockingjay Part II
Written by Emanuel Iuhas, Posted in Events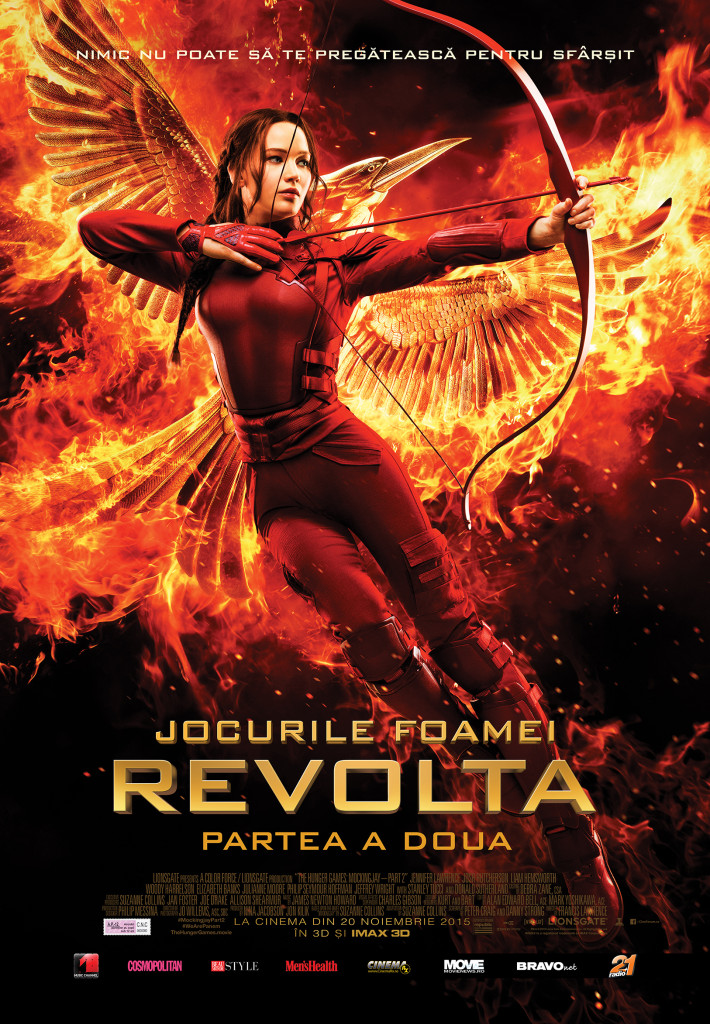 Marti ne-am rezervat seara pentru a viziona ultima parte a din trilogia Hunger Games. Dupa ce am dat o fuga la evenimentul Beautik, am ajuns la AFI Palace exact la timp pentru avanpremiera VIP a filmului "Jocurile Foamei: Revolta – partea a doua".
Bazat pe a doua parte a ultimului roman din trilogia de succes "Jocurile foamei" scrisa de Suzanne Collins, filmul "Jocurile foamei: Revolta – partea a doua" o regaseste pe Katniss Everdeen (Jennifer Lawrence) – cunoscuta tot drept "Mockingjay" (gaiţa zeflemitoare) – luptand nu pentru supravietuire, ci pentru viitor. Filmul duce mai departe emotia si actiunea din primele filme ale francizei, cu scopul de a inchide cercul transformarii lui Katniss, din fata prinsa intr-un cosmar distopic in liderul care schimba o natiune.
Filmul "Jocurile foamei: Revolta – Partea a doua / The Hunger Games: Mockingjay – Part 2" este distribuit de Forum Film Romania si are premiera azi, 20 noiembrie 2015, fiind distribuit in format 3D, IMAX 3D si 4DX.
Al patrulea film din franciza Lionsgate, care este deja un adevarat fenomen international, o regaseste pe Katniss (Jennifer Lawrence) in Districtul 13, in timp ce in Panem se declanseaza razboiul. Ea are de infruntat nu numai forta presedintelui Snow (Donald Sutherland), ci si apocalipsa din Panem. Impreuna cu cei mai apropiati prieteni ai ei – printre care Gale (Liam Hemsworth), Finnick (Sam Claflin) si Peeta (Josh Hutcherson) – Katniss isi asuma dificila misiune de a-i elibera pe locuitorii din Panem. Ca un adevarat lider, ea pune la punct si asasinarea preşedintelui Snow, care e din ce in ce mai obsedat de ideea de o distruge. Dupa toate jocurile si focurile prin care a trecut, Katniss are de infruntat acum capcane mortale si dusmani care depasesc orice provocare a imaginatiei.
Este un film cu happenng imprevizibil si un final pe masura. Must – see!
Both of us in C&A outfits.
Comments
comments