Feric Fashion Week 2021: Day3
Written by Emanuel Iuhas, Posted in Events, Uncategorized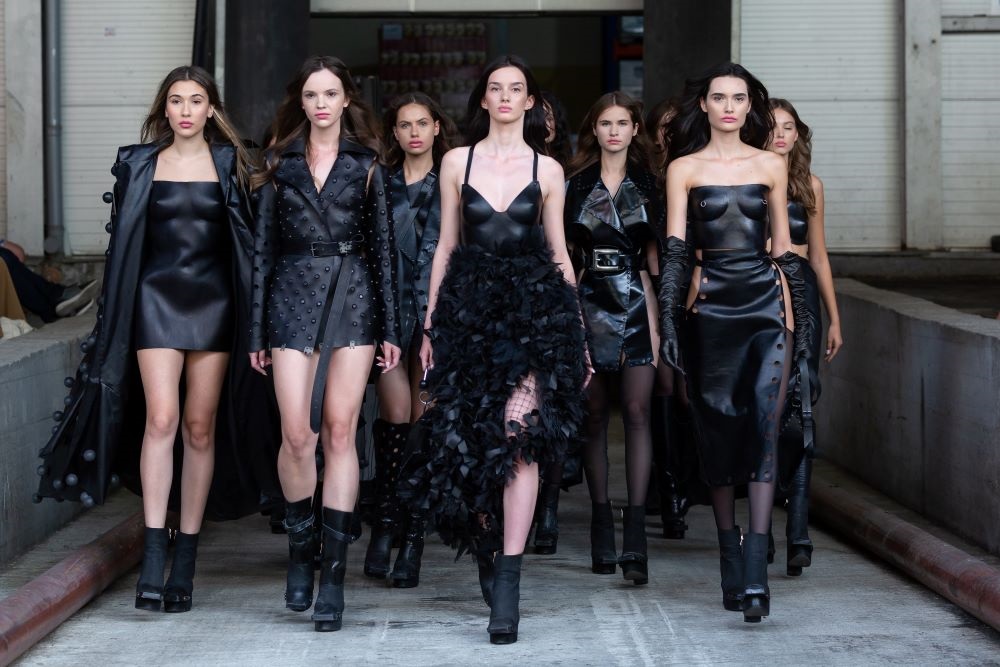 Ultima zi a prezentărilor individuale din cadrul editiei 13 a Feeric Fashion Days 2021 a debutat în curtea fabricii Boromir, gazdă pentru prezentările susținute de Kreep. Agency și Alexandru Florea.
Prezentarea New Talents by Kreep a reunit designeri din Statele Unite, Germania, Belgia, Pakistan și Egipt, fiind stilizată de Sebastian Felix Țopescu, un stilist vizionar, fashion editor la Modic Magazine și 33 Magazine și proaspăt absolvent în direcție artistică la Instituto Europeo di Design din Milano. Brandurile prezentate de Kreep sunt etice, realizate manual și cu o notă artizanală pe fiecare piesă.
Show-ul Alexandru Floarea a fost de departe highligh-ul Feeric Fashion Week dacă vorbim despre concept, măiestria design-ului și execuției, dar și punerea în scenă. Alexandru a adus în fața publicului colecția Kikimra, o colecție inspirată din imaginea dezolantă a New York-ului în perioada anilor '70 – '80, reflectată în fotografiile artistului german Miron Zownir. Colecţia nu face parte din "mainstream" și nici nu e comercială, pune însă în valoare partea neconvenţională, periferică şi extremă a societăţii, dominată de glamour, divertisment şi sentimente false.
De altfel, succesul lui Alexandru Floarea a fost subliniat și de premiul câștigat de el în această ediție a Feeric Fashion Week, o bursă oferită de IED la Barcelona, premiu acordat de Landiana, vicepreședintele FFW, în cadrul Galei Feeric.
În salonul VIP de la Cinegold, în Promenada Sibiu, brandul de lenjerie Sethei a prezentat apoi o colecție plină de mister și rafinament. Colecția este inspirată din mitologie și se conturează în jurul liniilor elegante de design, produsele fiind dedicate unui public premium. Piesele sunt realizate din materiale superioare calitativ, cu inserții speciale de motive tradiționale ce urmează o linie sustenabilă de prețuire a valorilor și resurselor locale.
Blanche and Brownie a prezentat, apoi, o nouă colecție, o colecție "de grădină", care nu ține cont de vârstă, exprimată prin culoare și felurite buzunare transpuse în materiale. Prezentarea brandului a avut loc în Piața Huet, prin pasajul care leagă acest spațiu de Piața Mică.
De la ora 21:00 s-a dat startul evenimentul vedetă al acestei ediții, Gala Feeric, unde au prezentat colecții brandurile Lily of the Valley, Valentina Zeed, Bisoulovely, Inessa Creations Monaco și by Olga Mihoc. Intr-un articol dedicat voi dezvolta și această Gala. Stați pe aproape.
Feeric Fashion Week a avut loc între 21 și 25 iulie, la Sibiu. Evenimentul a fost cofinanțat de Consiliul Local Sibiu prin Primăria Municipiului Sibiu și de Consiliul Județean Sibiu.
Parteneri: Ford, Promenada Sibiu, Cinegold, Boromir, Visit.Sibiu, Beauty One, Școala de șoferi Prima, Buonavista și Modic Magazine.
Credit foto: Feeric Fashion Week
Comments
comments